Disappointment, frustration, anger – these three common emotions are frequently the consequence of unmet expectations.
Every day, at home, at work, at school, in our communities; we collide with our own expectations, as well as the expectations of others.
"What do you expect?" This is the question you need to ask. In all circumstances, all the time. Answering this simple question will help you successfully navigate the complexity of competing expectations and the resulting emotions. Your ability to manage expectations is central to building healthy relationships, both personal and professional.
Click for the Foreword by Lorna Dueck, Executive Producer, Listen Up TV, Commentary Writer, The Globe and Mail, CBC.ca,
and for the Preface, the Introduction and the Table of Contents.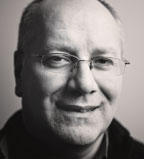 Brian Reynolds is a writer, speaker, and performance coach. He has been a pastor, serving at three churches for over twenty-five years, navigating the varied expectations, realistic or otherwise, that are part of that role. Prior to pastoring he was the art supervisor for McGraw-Hill Ryerson book publishers. He says these two occupations, as well as family life, provided "the proving ground for my system of managing expectations." Brian and his wife Sandy live in Burlington, Ontario. He has two grown children. And he loves asking the question: "What do you expect?"
Check out Brian's blog:
whatdoyouexpect.wordpress.com
and website:
www.whatdoyouexpect.ca

What Do You Expect? The Question You Need to Ask.
136 pages, 5.5"x8.5" paperback. Published April 2011.
ISBN 978-0-9732038-1-3
Books are available in person from the author or you can order books from Scarlet Cord Press by calling: 416-255-7831
or by emailing: expect@scarletcordpress.com
or by regular mail at the SCP address below.
Cost: $20 per book plus shipping and handling charges as applicable
(email SCP with your mailing address for the total cost).
Payment can be made by cash (in person), by cheque (in the mail, make cheques payable to Scarlet Cord Press) or by PayPal (all major credit cards, bank transfers and PayPal payments accepted).
Email SCP with your book order and we will figure the total cost (including shipping and handling, as applicable) and issue an invoice which can be paid by the method of your choice.



Scarlet Cord Press
Warren MacDonald, Publisher
26 Winslow Street, Toronto, Ontario M8Y 3C1 Canada

Book and website art and production by MacDonald Design.